LAZYWONDERBRUSH CLASSES
Collection of 9 online painting classes created by Olga Peregood
About This Course
If you want to grow as a loose style painter, if you want to make your paintings looks more light and fresh this class is for you.
Firstly, start to paint regular. Even in "bad days", let your hand to move across the paper with a few simple washes.
Train your mind to think in a new way. During the day, spent time by watching your old unfinished pieces. Wait for interesting ideas, don't push, gently wait what your mind guess, where to add next detail.
Stretch your imagination. Make this class as a base for your everyday morning routine. As I showed in this class, 3 warm up paintings, choose simple subject from your today's walk. Don't ask much from those pieces.
This is it.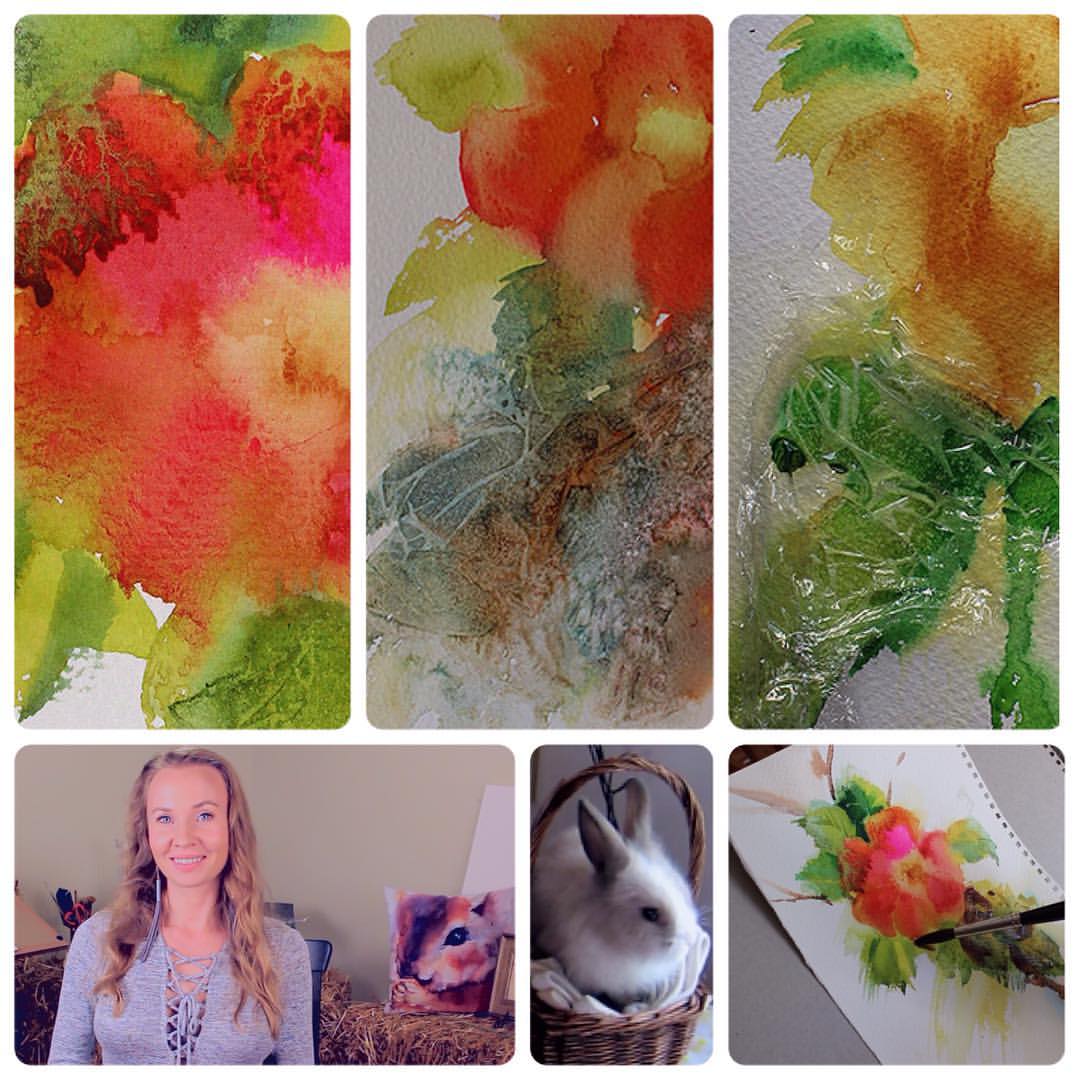 If you watched my class "Watercolor Treasure Chest" it is clear to see I used my favorite watercolor technique "Creating by Destroying" for petals and "Lazy Artist Technique" for greenery texture with a cling wrap.
You might noticed vertical color flow as I worked at an angle on my easel. I know my palette and took into a game watercolors which gives me beautiful color combinations when they mixed together on a paper.
Browse and unfold "Preview" lectures available from Curriculum to get an ideas and inspiration before your purchase:
What's Inside 🧮
Overview | LAZYWONDERBRUSH CLASSES | reveals on your second year of active membership
This chapter reveals in days
days after you enroll
CLASS 1 FROM 9 🌊 Watercolor Water Fall: Beginner Step For Loose Fluid Paintings
This chapter reveals in days
days after you enroll
CLASS 2 FROM 9 🦌 Easy Watercolour Paintings: Deer, Fur
This chapter reveals in days
days after you enroll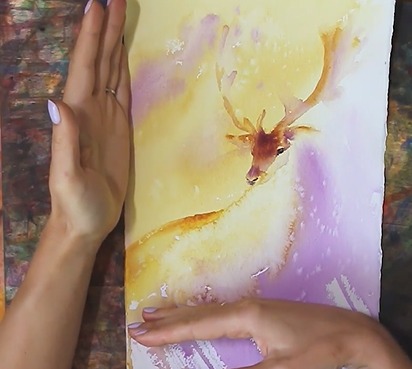 As before Olga has done it again. I love it. She has fun as she seems to be experiments with her watercolor. She knows when to stop painting.
Frank Shemonek Sr., student of "Easy Watercolour Paintings: Deer, Fur"
This class was fascinating to watch. I love Olga's technique of using just 2 colours and it was so cool watching her deer appear on the paper.
Margot Johnston, student of "Easy Watercolour Paintings: Deer, Fur"
I love Olga's loose and fluid approach to watercolor. It's like magic to watch an animal emerge from a multicolored wash. Thank-you Olga!
Wendy Nelson, student of "Easy Watercolour Paintings: Deer, Fur"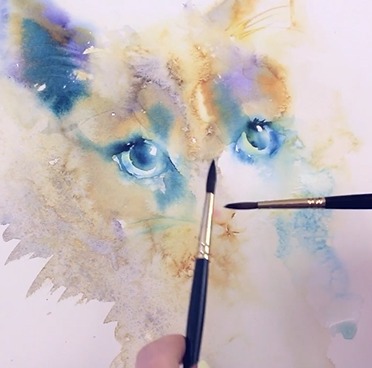 If you are looking for a way to make your watercolor paintings more fluid, this is the class for you!
Leslie Panfil, Master Crafter, student of "Watercolor Atmosphere: Something Cute 4 U"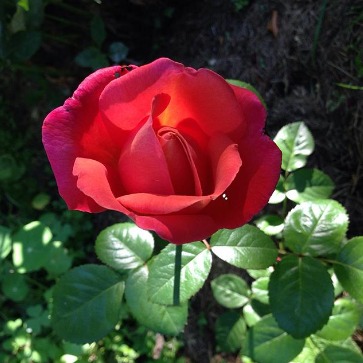 Fun project. Olga encourages us to "loosen up". Enjoyed it tremendously.
Carolyn O'Bayley, student of "Roses In Watercolor: Learn To Be Loosed While Painting"
This is an excellent tutorial. Thank you so much Olga. Love your style!
Fran Yeoh, student of "Roses In Watercolor: Learn To Be Loosed While Painting"
Course Includes 9 Classes: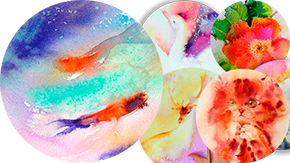 Roses In Watercolor: Learn To Be Loosed While Painting
Watercolor Water Fall: Beginner Step For Loose Fluid Paintings
Easy Watercolour Paintings: Deer, Fur

Fish, Bubbles II

Fish, Bubbles I

Snowy Caps On Wind

Wings On Wind

White Foxgloves


Something Cute 4 U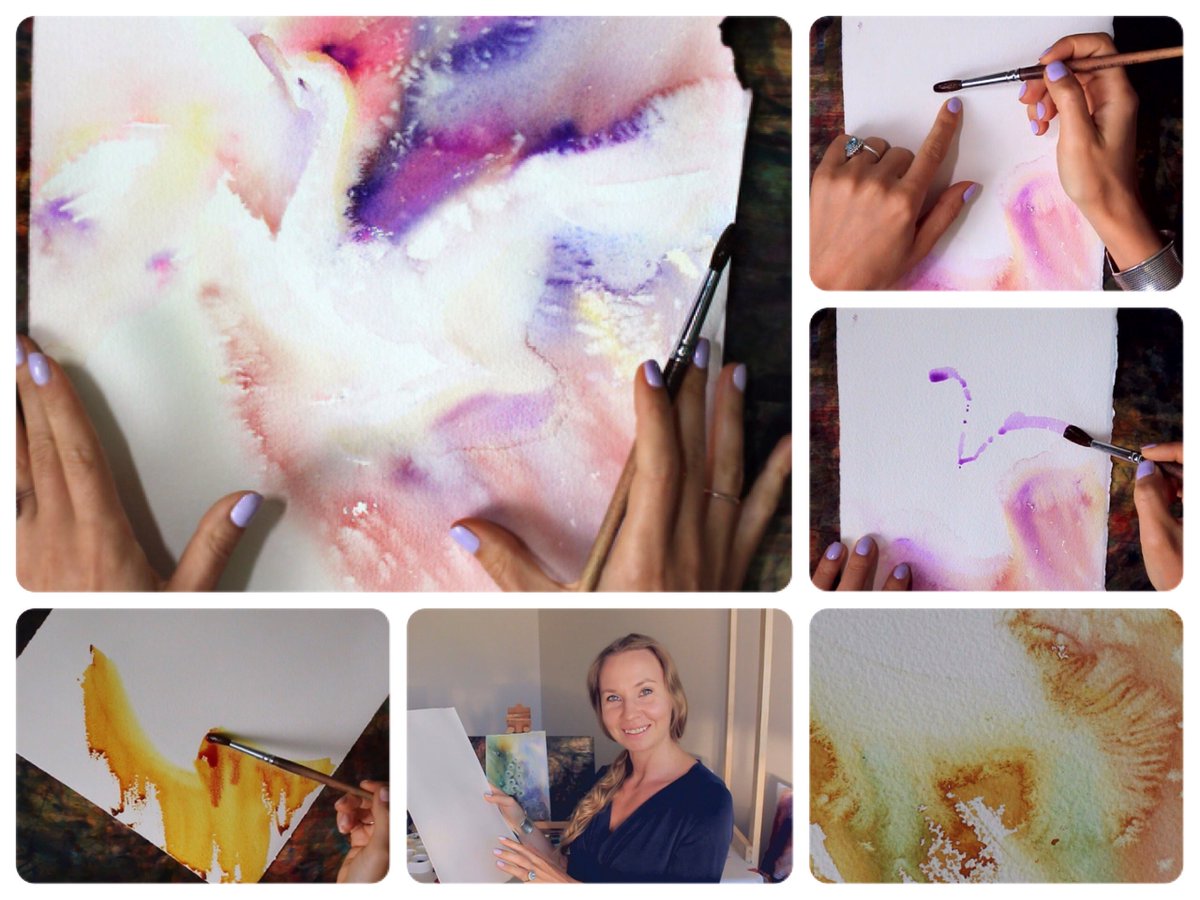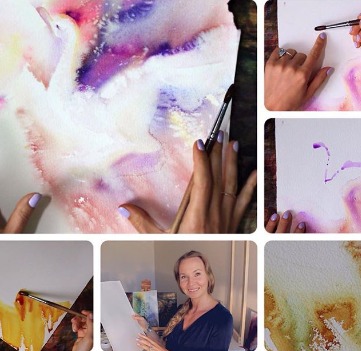 Olga's classes are so easy to follow and engaging! She is such a kind and generous artist to share her talents this way! Highly recommend for beginner and more advanced painter. There is always something new to learn with watercolor!
Angela Casey, student of "Wings On Wind: How To Paint Wings And Make Your Subject Fly Away From The Paper"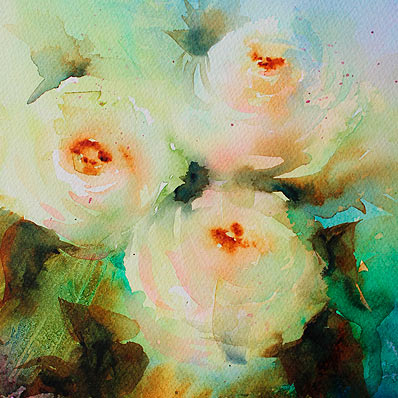 I too so look forward to your teaching. I am transfixed by your soft gentle voice. I have always been a little discouraged trying to paint with watercolor as I could not just let myself get *loose* enough. If I was trying to paint*MUD* I would have had a great picture but alas, I was trying to do flowers. But now watching your lessons I have gone out , got new paints, new brushes and watercolor paper too. I try and follow your lessons as you teach them. You ARE my inspiration. THANK YOU!
Lois Seeley, happy student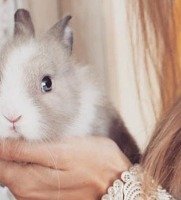 Dearest Olga, you have an open and generous heart and I am so glad that you decided to jump in and teach, because painting with you has been a joy for me. Watching your videos and learning from you has been such good medicine. I've learned so many things about art, and life and magic. I can never thank you enough for your presence in my life, and consider myself a very happy and lucky student!
I discovered watercolor at a time of change too. Watercolor, and your classes, are so healing to me. I was so happy to discover you, because your spirit and light really helped me to find joy in the small moments when water and color and paper dance together.
Thank you a thousand times, Olga. For your lessons and your inspirations, your openness and your willing to share what you know with a full heart. Sending you love and joyous paintings!
Tasha S., inspired student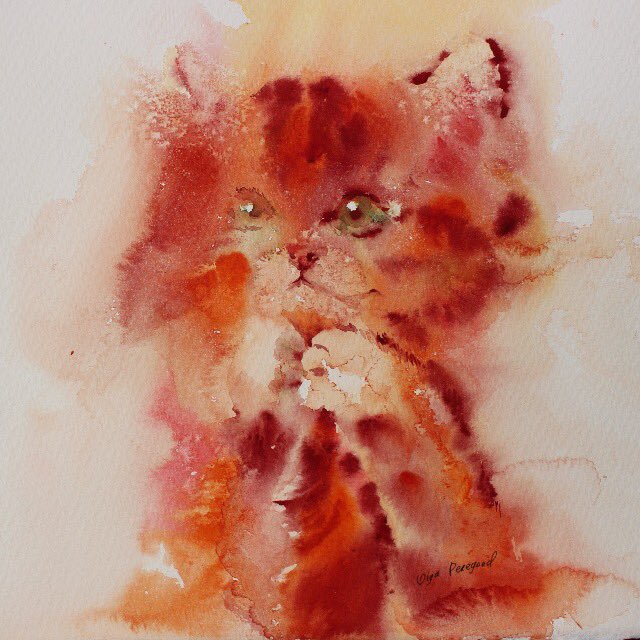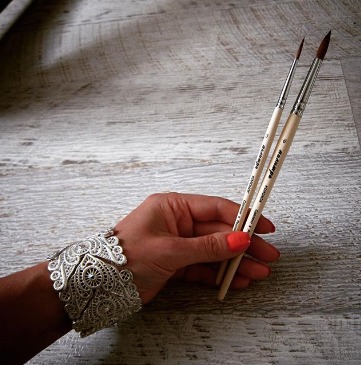 I'm so happy for you! I was also a Graphic Designer in Alberta, Canada for many years. I never had the time or energy to paint after working on technical drawings all day. Now I'm home and have time to garden and paint and I fell in love with watercolour! Because of my technical background I needed to 'learn' how to loosen up and your tutorials are very fun and informational. Now that I have found you and subscribed, I can't wait to see what you paint next! Much happiness,
Shanann, happy student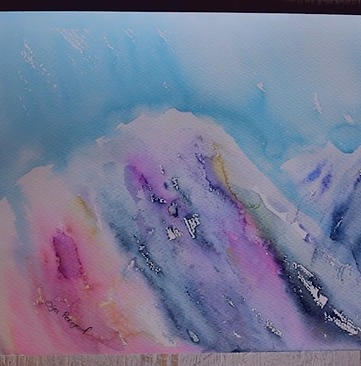 I have been so impressed by your style of painting. I love your colours, the freedom and flow of your techniques. I have been into watercolours for two years now and do struggle with the medium. I find it hard to let go and let the paints flow. Thank you so much for your assistance,
Marguerite, happy student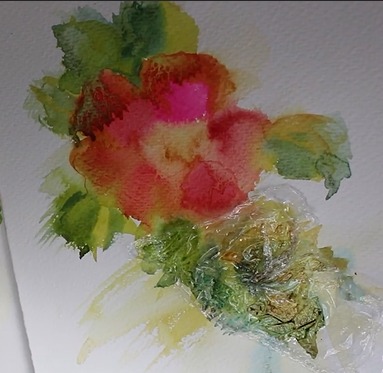 Hi Olga, I love your watercolour painting techniques and videos! I particularly loved the flower bouquet you did using negative painting, cling wrap and splatters. I tried doing it on my own. Although I am happy with most of my flowers.Thank you in advance for your response and for sharing your talents for all to see and learn by. I look forward to seeing more of your tutorials and courses!
Diane, happy student
Artist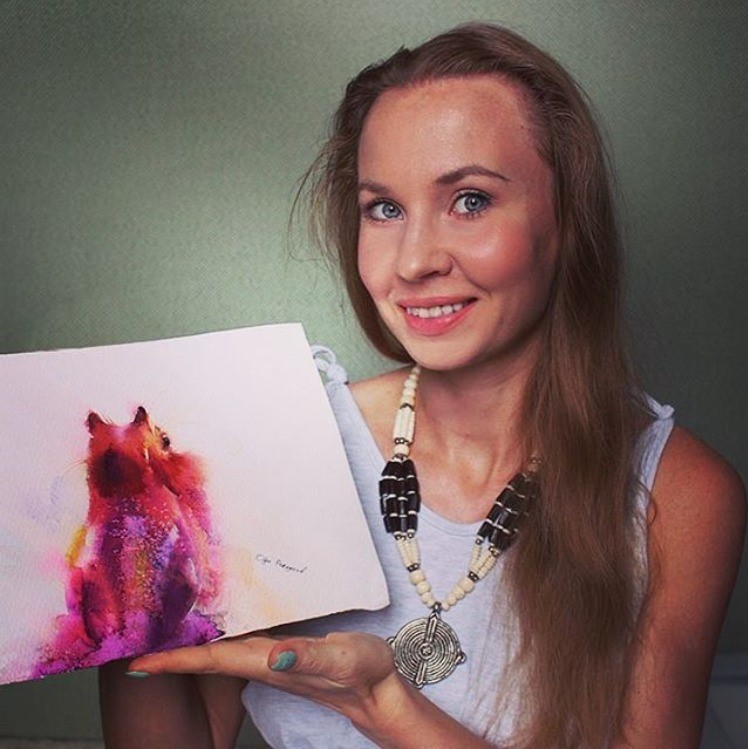 Hi, Olga Peregood here, your instructor, watercolor friend and I'm here to help you...
🕊️ paint free and relaxed
so you not worry about so many details any more


🕊️ watch me painting and sharing live or on a replay
so you keep moving on your artist wheels REGULARLY ⚙️, more effectively and finally be able to paint beautiful!


🕊️ surrounded with same-minded artists like you
You can ask questions, share your pictures and be supported in my warm and cozy Facebook group. Request an invite HERE


🕊️ get inspired! Imagine for a moment in the morning you're jumping from bed and running to continue painting
so the viewer of your final painting feels this joy
---
🏅 Olga Peregood, professional artist and founder of #1 collection of watercolor painting courses for loose style of painting for multi-subjects: landscapes, flowers, roses, animals, birds, figures, still life. Hundreds tutorials, step by steps, demo replays 2015-2020.
🏅 Olga Peregood watercolor painting courses attended more than 10K students from 119 countries and counting.